Photos: Jeff Post, curator emeritus at the National Museum of Natural History

Wisconsin State Journal
Posted November 27, 2023
---

A New Philosophy of STEM Work
More can be done to recruit, train, and retain scientific professionals,
argues sociologist John Skrentny, in his book Wasted Education.
Science Magazine
Posted November 27, 2023
---

Tamara Thomsen has a knack for finding Wisconsin's sunken vessels
The Wisconsin State Journal
Posted November 27, 2023
---

I'm a Climate Scientist. I'm Not Screaming Into the Void Anymore.
The New York Times
Posted November 21, 2023
---

Shepherding the Digital Revolution: Smart Sheep Breeding

By Dr. Ambreen Hamdani


Posted November 2, 2023
---
The State of US Science & Engineering 2022

Posted October 26, 2023
---
Guest Editorial: Celebrating Carl Djerassi
Chemical & Engineering News

Posted October 23, 2023
---

The scale of The Milky Way - why is the galaxy bigger than we think?
via YouTube

Posted August 4, 2023
---
Book Launch Event: Cayce Osborne's Debut Novel, I Know What You Did
Bassam and Science is Fun group members Ray Czerwinski, Katherine Parrish, Ceci Vollbrecht, and Amanda Spiewak join WISL Senior Outreach Specialist Cayce Osborne at her book launch.
Watch a Recording of the Event
Posted July 21, 2023
---

Posted June 29, 2023
---

The Soul in Things
An exhibition at the Mandelbaum & Albert Family Vision Gallery
June 22-September 8, 2023
Opening reception: June 22, 4:30-6:30pm
Posted June 20, 2023
---

Coke and cola: Soda's chemical history
A collaboration between C&EN and Andy Brunning,
author of the popular graphics blog Compound Interest


Posted May 1, 2023
---

Interactive Mural is a Landscape for Discovery
Wisconsin People & Ideas, Winter/Spring 2023


Posted April 13, 2023
---

Poets for Science
This exhibition features poems printed on human-sized banners that explore
unexpected connections between the seemingly divergent disciplines of scientists and poets.
March 27, 2023 - September 8, 2023
NAS Building, 2101 Constitution Ave., N.W., Washington DC
Open 9 a.m. to 5 p.m. on weekdays

Posted April 6, 2023
---

We Have Cutting-Edge Science to Make Vaccines, but Will Everyone Benefit?
The New York Times
Posted March 27, 2023
---

Excellence in outreach recognized with inaugural
Bassam Z. Shakhashiri Public Science Engagement Award
UW Research
Inaugural Bassam Z. Shakhashiri Public Science Engagement Award
recognizes excellence in outreach
UW News
Posted March 14, 2023
---

Earth Day 2023: Species on the Move
April 18-19, 2023

All in-person sessions take place at the Discovery Building
330 N. Orchard Street, Madison, WI
All virtual sessions take place on Zoom

Posted March 1, 2023
---

Tuesday, April 18, 2023 at 6:30 p.m.
NAS Building, Washington DC
(In-person event with recording made available afterward)
Posted February 24, 2023
---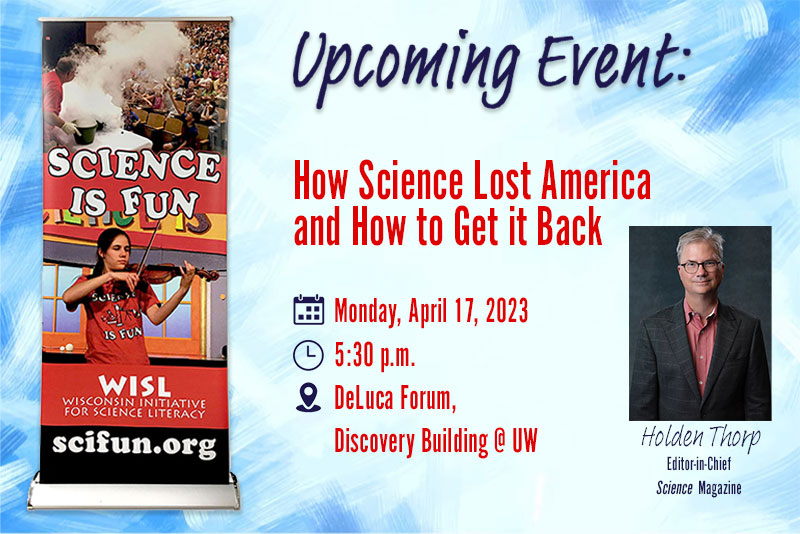 Holden Thorp will also be a guest on Wisconsin Public Radio's Larry Meiller Show
Tuesday, April 18 at 11:00 a.m.
Listen to the show

Posted February 21, 2023
---

Wisconsin Society of Science Teachers Conference Madison 2023
Bassam is the pre-banquet speaker

Posted February 16, 2023
---

Students and postdocs deserve more

Posted February 16, 2023
---

For 40 years, the Wonders of Physics has been wowing

Posted February 15, 2023
---

VIDEO
Whispers from Other Worlds: Thomas Zurbuchen and Nadia Drake
PSW Science on YouTube

Posted February 7, 2023
---

Warfarin Designated National Historic Chemical Landmark

Posted January 18, 2023
---

Universities Report Largest Growth in Federally Funded R&D Expenditures since FY 2011

Posted January 4, 2023
---