Tom Kuntzleman
WISL Honorary Fellow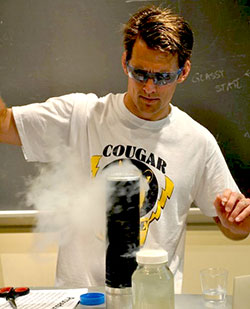 Dr. Tom Kuntzleman's ties to Prof. Shakhashiri go back to his chemistry undergraduate studies at Bloomsburg University in Pennsylvania: that's when he first performed a demonstration from Chemical Demonstrations: A Handbook for Teachers of Chemistry. When he started out as a middle school teacher in North Carolina, he received the four-volume (at the time) book set as a gift. Currently, Tom is Professor of Chemistry at Spring Arbor University in Michigan, which is where he grew up. His collaboration with Prof. Shakhashiri began when a mutual friend recognized their common interests and introduced them.
Tom's love of science was sparked when he took a general chemistry course taught by Emeric Schultz. He saw live chemistry demonstrations for the first time and was mesmerized. That spark was fanned into flame during the seven years he taught middle school science in the public schools of North Carolina. Tom was in high school when he first thought teaching would be a good fit. Many good mentors throughout his early career helped him learn to navigate the many complex issues involved in running a successful learning environment. He feels extremely fortunate to have had these mentors, enabling and empowering him to remain part of the teaching profession.
In addition to teaching college students, Tom has run the Cougar Science Camp for the last 15 summers. During camp, university faculty, university students, local teachers, parent volunteers, and high school volunteers work together to plan, prepare, and present hands-on activities and science demonstrations to over 100 K-8th grade students. The experiments presented each year focus on a specific theme. These have included Science goes to the Movies, The Science of Space, and Is it Science…or Magic? When asked if he has a favorite experiment, Tom replied: "Whatever one I happen to be doing at the time, which is usually the Coke and Mentos experiment!"
Science communication is important to him because, "Fostering within the general public a solid understanding of scientific information, a healthy respect for the work that scientists do, and an appreciation of science as a way of thinking has great potential to benefit society as a whole. Nothing achieves these aims in quite the same fun, efficient, and encompassing manner as communicating science through experimentation.
"As society continues to rely more and more on scientific advances, science-focused discussions should be increasingly brought to the fore. Working scientists who engage in science communication foster these conversations, because they provide the public with a living, breathing person to whom they can bring their questions, concerns, and ideas about science."
In his spare time, Tom enjoys spending time with his family, going for long bike rides, listening to classic rock, doing experiments, watching sports, and thinking about ideas both great and small.
He has been married to Melody, a nurse, for almost 24 years. They have three sons: Jacob is a math and physics major, John is a biology and film major, and Jackson, who is still in high school, has an interest in forensic science.