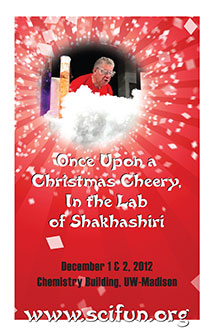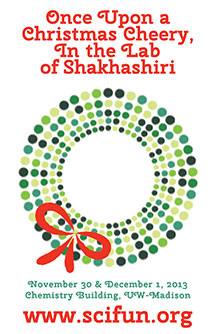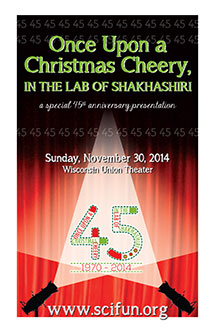 ---
Dr. Bassam Z. Shakhashiri, Professor of Chemistry at the University of Wisconsin-Madison, is renowned nationwide for his chemical demonstration shows, and in particular for his annual presentation, Once Upon a Christmas Cheery, In the Lab of Shakhashiri. For nearly 50 years, this science-oriented entertainment has played to packed houses at such varied locations as the University of Wisconsin-Madison, the National Academy of Sciences and the Smithsonian's National Air and Space Museum in Washington, and Boston's Museum of Science, as well as being televised by stations across the country.

Several of these annual presentations are available on DVD.
Some are also available to view online: 2019, 2018, 2017, 2016, 2015, 2014.
See more on our YouTube Channel.
---
In these fun-packed and educational presentations,
Professor Bassam Z. Shakhashiri demonstrates:

balloons that explode and balloons that collapse

liquids that change color and liquids that solidify

polymers that expand and polymers that shrink

solutions that glow in the dark

... and many more fascinating and exciting experiments,
including some you can do at home.
---
They can be ordered from:
Check the Educational Innovations Web site at www.teachersource.com