Ron Perkins
WISL Honorary Fellow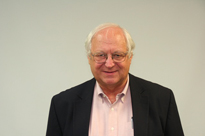 For 33 years, Ron Perkins taught chemistry in New Hampshire and Connecticut, the last 25 years at Greenwich High School in Greenwich, CT. For all but one of these years he served as the Science Facilitator of a 15-member chemistry and physics staff. During that time his advanced placement high school chemistry students taught more than 2,500 hours of science lessons to students in the elementary schools, winning national recognition.
Ron graduated with BA and MST degrees in Chemistry from the University of New Hampshire and has done further graduate work at Cornell and Clark Universities. In 1983, Ron became the first Presidential Awardee for Excellence in Science Teaching from the State of Connecticut.His teaching has been recognized with the 1984 Northeast CMA Catalyst Award, the 1985 ACS James Bryant Conant Award for High School Chemistry Teaching, and the 1991 National CMA Catalyst Award.
From 1983 to 1997, while teaching in Greenwich, Ron began collaborating with Prof. Shakhashiri. Ron served as the Assistant Director for the Institute for Chemical Education and became the first Honorary Fellow of the Wisconsin Initiative for Science Literacy. He is one of the contributors to Prof. Shakhashiri's Chemical Demonstrations book series (Volumes 2, 3, & 4). Volume 5 is dedicated to both Dr. Oliver Sacks and Ron. He has made invaluable contributions to the series, as well as to the art and practice of chemical demonstrations as a whole. The WISL is very fortunate to have him as a collaborator.
Ron also taught at Sacred Heart University, where he collaborated with Dr. Babu George on several papers, research projects and workshops. He has presented more than 800 chemical demonstration presentations and workshops for teachers and students in 39 states in the US, as well as in Canada, Ireland, England, and Norway. Ron has been the keynote speaker at the Cincinnati Section Chemical Demonstration Workshop, the Oklahoma Phillips Petroleum Science Week, the Seventh Chemical Demonstrations Conference in Macomb, IL, the Minnesota State Science Teachers Spring conference, the Montana State Science Teachers Convention, and the Michigan State Science Teachers Convention. He has given many keynote addresses at the Miami University-Ohio's Terrific Science Program for teachers. In 1995 Ron presented the Flinn Scientific Chemical Demonstration Lecture at the NSTA National Convention in Philidelphia to an audience of almost 4,000. In 1996 he was a featured speaker at the New England Association of Chemistry Teachers Summer Convention in Massachusetts and became the first precollege Plenary Speaker at an ACS DivCHED Biennial Convention, which was held in South Carolina.
Ron has been a Trustee of the ACS Examination's Institute and the ACS Board of the Journal of Chemical Education. He wrote the original DivChed ACS Chemical Demonstration Safety Guidelines, ca. 1990, which became the basis for the National Science Teacher Association's Safety Guidelines. He is the only precollege teacher to serve as chair of the 6,000-member ACS Division of Chemical Education. Also, Ron was chair of the local Western Connecticut Section of the ACS. In 2017 he was the ACS Western Connecticut Section's Visiting Scientist.
In 1994 Ron, founded Educational Innovations, Inc. with a former student, currently one of the Top 10 science supply companies in the US. Until 2010, Ron remained CEO and President of EI, Inc. In 2012 he received the ACS Helen Free Award and the ACS Outstanding Service to the Div. of Chemical Education Award. In 2014, Ron became a Fellow of the American Chemical Society.
Ron is currently retired and lives in Hancock, NH with his wife Karen. They have two daughters, Kristin and Kerry. He spends time fundraising for AIDA, the Inter-American Association for Environmental Defense, which is cofounded by Dr. Anna Cederstav, a PhD chemist and one of Ron's former students. His hobbies include photographing birds and learning about chemistry.