Conversations in Science for Teachers focuses on a wide range of topics. Questions and ideas are freely exchanged between expert and an audience of K-12 educators. This series began several years ago as Conversations in Science for Madison science teachers. As this program has grown, it has come to include all Dane County teachers.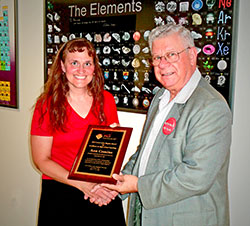 CIS participant Ann Comins, chemistry teacher at Memorial High School in Madison, was awarded the
2013 Great Lakes Region Award for Excellence in High School Teaching "in recognition
of her outstanding contribution to the quality of chemical education in the Great Lakes Region"
at the ACS-GLRM. Here Bassam is presenting Ann with her award.
Conversations in the Dorms
provided timely science-based topics to UW-Madison students.
Conversations in the Capitol
aimed to state lawmakers and administrators and their staffs.
Conversations on Creativity
was a series that features faculty members from arts, sciences and humanities, each discussing how creativity is exemplified and operates within their discipline, and all examining similarities and differences in how they express creativity. It is a joint program of the Wisconsin Initiative for Science Literacy, the Center for the Humanities, the Arts Institute, and the Madison Public Library system.
The common theme of the various Conversations series is that scientifically literate faculty and other experts have a responsibility to share their knowledge in ways that are understandable to the layperson and thereby to promote the science literacy of others. In the broadest sense, being science literate also means being aware of the many connections between science and other disciplines.