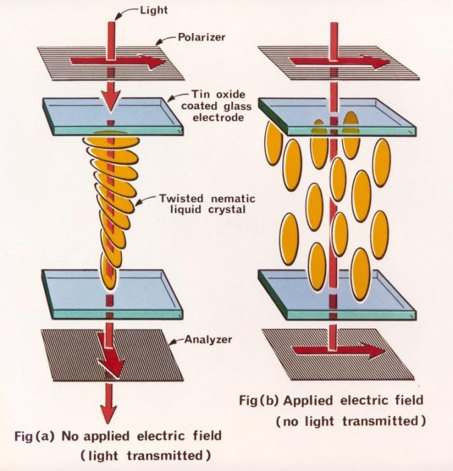 Photo credit: www.soue.org.uk
A special material is then applied to make microscopic grooves in the surface of the side of the glass that does not have the polarizing film on it. These grooves are aligned with the polarizing film. A coating of nematic liquid crystals is then added to one of the filters. The grooves on the filter cause the first layer of molecules of the LCs to align with the filter's orientation. The second piece of polarized glass is then added with the polarizing film at a right angle to the first piece. Each layer of twisted nematic molecules between the two filters will gradually twist until the uppermost layer is at a 90-degree angle to the bottom, matching the orientation of the filter that is closest to it, as in Fig. (a) on the left.


As light strikes the first filter, it is polarized, or oriented in a particular direction. The molecules in each layer then guide the light they receive to the next layer. As the light passes through the LC layers, the molecules also change the light's orientation to match their own. When the light reaches the far side of the liquid crystal substance, it is in the same orientation as the final layer of molecules. If the final layer is matched up with the second polarized glass filter, then the light will pass through.

Remember, if we apply electric charge to liquid crystal molecules, they untwist. When the LCs straighten out, they change the angle of the light passing through them so that it no longer matches the angle of the top polarizing filter. Consequently, no light can pass through that area of the LCD, which makes that area darker than the surrounding areas, as in Fig. (b) below.